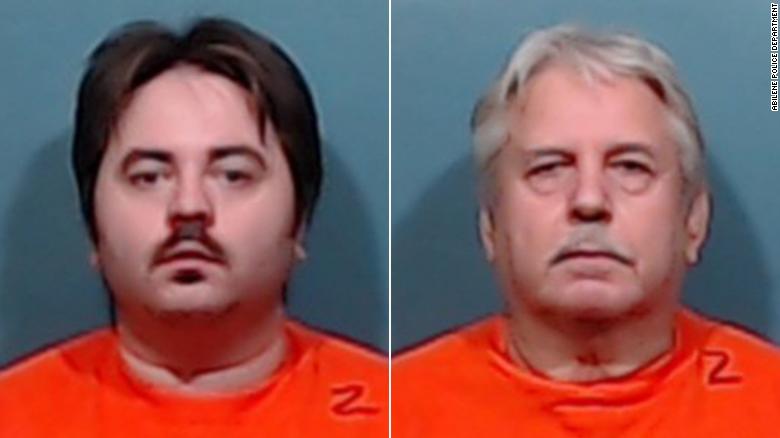 (CNN) – A father and son are facing murder charges after police say they shot and killed a neighbor in Abilene, Texas, over a dispute about a box spring — an incident the victim's common-law wife caught on camera.
According to police, on September 1, John Miller, 67, and his son Michael Miller, 31, got into a confrontation with their neighbor over a box spring mattress in a shared alleyway.
The argument escalated, and both father and son discharged a handgun and a shotgun, respectively, killing 37-year-old Aaron Howard, police said.
In a press conference the day of the shooting, Abilene police Chief Stan Standridge said the Millers had been arrested on murder charges.
They both immediately bonded out on initial bonds set at $25,000 each, according to an updated statement from Standridge released Friday, "a great concern to both myself and our community."
The Millers were taken into custody again Friday afternoon after a court reviewed their bonds and raised them to $250,000 each, Standridge's statement said.
Reached by CNN on Friday, Michael Miller declined to comment. When asked if he had an attorney, he said, "We have an attorney, but I'd rather not divulge his name at this time."
"We have not entered a plea, and I don't want to say anything else," he added.
Online jail records Friday said the Millers faced charges of first-degree murder. The Taylor County Criminal Court clerk told CNN on Friday they had not been formally charged.
'You just pulled a gun in front of my kids'
Howard's common-law wife, Kara Box, filmed the incident on her phone and released the footage to the Fort Worth Star-Telegram newspaper. CNN has reached out to Box for comment but has not heard back.
When the video begins, John and Michael Miller are standing by what looks to be a box spring mattress. The father holds a handgun in his right hand, while his son stands behind him, with a shotgun over his shoulder.
"Oh yeah, you're going to jail," Howard tells them, before walking toward the elder Miller.
"I'm right (expletive) here," he says.
"Back off," John Miller says. "If you come closer to me, I'm going to kill you."
"You pulled a gun in front of my kids over a (expletive) mattress," Howard says. He also repeatedly threatens to kill the Millers, according to the video.
The confrontation escalates as both sides let loose profanities and threats. Police have said at some point someone went inside Howard's home and brought out a baseball bat.
"If you come within 3 foot of me, I'm going to kill you," John Miller tells Howard.
"You're not going to shoot my husband," Box says.
"Come on, shoot me. You're dead. Point it," Howard says, before two gunshots ring out. After a brief moment, more gunshots can be heard.
Box cries, "Aaron? Aaron!" and runs toward Howard, who's lying on the ground.
Howard died of at least two gunshot wounds, according to police.
Suspects admitted to shooting, police say
Both John and Michael Miller admitted to shooting Howard, Standridge said in his Friday statement,which was posted on Facebook.
"When the first shots were fired," the statement said, "Aaron had a bat in his hand and was approximately seven feet from John Miller, who was closest to him. When Michael Miller discharged his shotgun and John Miller fired the final two rounds from his pistol, Aaron Howard was unarmed."
Based on Box's footage and interviews with the suspects, the statement said a detective determined the Millers were "tired of their neighbor, Aaron Howard, acting out and yelling and threatening them verbally," prompting them to bring out their firearms."
"As soon as (Howard) raised the bat while approximately seven or more feet away from John, John shot him," the statement said.