BATON ROUGE, La. (WDSU) – A suspect has been arrested in the shooting death of Louisiana State University basketball player Wayde Sims.
NBC affiliate WDSU-TV reports Dyteon Simpson was taken into custody Saturday morning after admitting to shooting Sims shortly after midnight Friday, Baton Rouge police Chief Murphy Paul said at a news conference Saturday.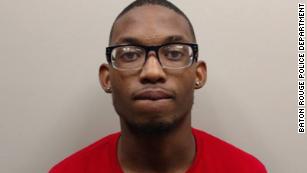 The 20-year-old athlete suffered a gunshot wound to the head, Paul told reporters, after intervening in an altercation between his friend and Simpson, also 20.
"Wayde stepped in to defend his friend," Paul said, "and was shot by Simpson."
Simpson faces a second-degree murder charge, according to East Baton Rouge District Attorney Hillar Moore III.
Paul noted his department had received videos that captured the shooting and the events preceding it.
In an effort to get information from the community, police released footage Friday showing more than a half-dozen men fighting at the time of the shooting. The individuals in the video are seen throwing punches near some vehicles.
Detectives recovered Simpson's glasses, which were knocked off during the fight, Paul said. After executing a DNA seizure warrant, authorities checked Simpson's DNA against those on the glasses and found a match, the chief said.
"Simpson was questioned and admitted to being in possession of a weapon, admitting to being on the scene and admitted to shooting Wayde as well," Paul said.
Authorities said the investigation is ongoing.
Leaders of agencies involved in investigating the shooting attributed the quick detective work, in part, to the cooperation of the community, tips sent to police and Crime Stoppers.
"In Baton Rouge, people are telling the truth," Paul said. "And the community in Baton Rouge is getting sick and tired of the violence that's going on in this community. And we're going to ask you to continue to call us … because we will never stop listening."
Echoing Friday's comments by LSU officials, Paul reiterated the community's adoration of Sims, a junior at the university and forward on the basketball team.
"There's something unique about this case," Wade said. "We are getting — we've received so many calls. This young man was loved by so many people, nationally.
"A young athlete, from the community, playing at our great university — you know, I think we all probably looked forward to seeing him in the NBA one day."
LSU basketball coach Will Wade told reporters Friday that Sims was loved by all. "He was a blast to be around at all times," he said. "We are devastated and shocked."
Joe Alleva, LSU vice chancellor and director of athletics, thanked authorities in a statement Saturday for "their hard work, diligence and pursuit of justice."
"Along with LSU Athletics, the entire LSU family continues to mourn the loss of Wayde Sims," Alleva said. "Our thoughts today are with his family, friends and teammates."