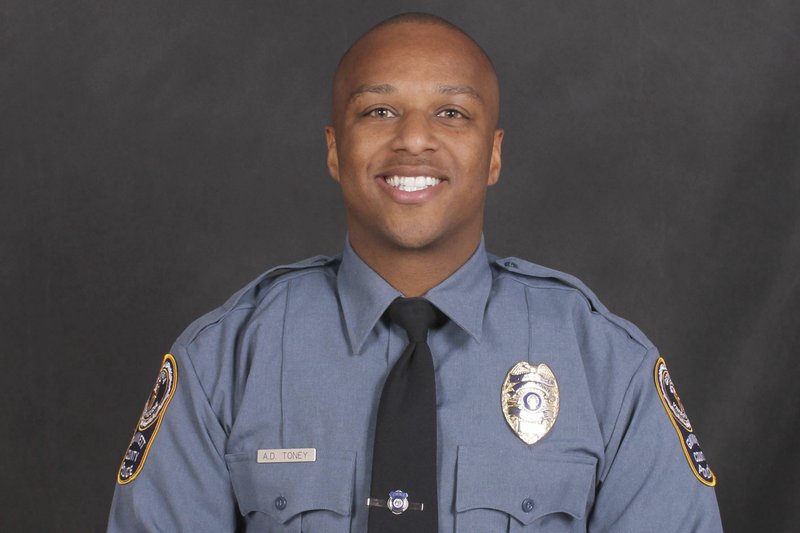 (AP PHOTO)
NELLVILLE, Ga. (AP) — Two teenage suspects, including one who is still being sought by police, are facing charges in connection with the fatal shooting of a Georgia police officer who was killed while responding to a suspicious vehicle parked near a school, authorities said Sunday.
Authorities said they believe 18-year-old Tafahree Maynard fatally shot Officer Antwan Toney on Saturday afternoon in the Snellville area, Gwinnett County Police said in a statement. Maynard remained at large early Sunday and should be considered armed and dangerous, police said. He faces charges of aggravated assault and felony murder.
"Tafahree Maynard needs to turn himself in," Gwinnett County Police Chief Butch Ayers said at a press conference.
A second suspect, 19-year-old Isaiah Pretlow, was charged with aggravated assault for allegedly pointing a firearm at an officer during the pursuit after Toney's fatal shooting, police said.
Toney died at a hospital from his injuries, police said. The 30-year-old from Southern California had been with the Gwinnett County Police Department for nearly three years. It was his first police job.
"The people that worked with Officer Toney on a daily basis recalled a very jovial person who was dedicated to his job and dedicated to his community," Ayers said.
Toney and other officers responded to a call about a suspicious vehicle near a school, police said. When the officers approached, someone in the vehicle opened fire and Toney was hit. Then the vehicle sped off.
According to police, Pretlow drove the vehicle from the scene following the shooting, crashed a short distance away and fled along with other occupants. An officer who was searching the area later encountered Pretlow about 3 p.m. Pretlow pointed a gun at the officer, who fired shots. Pretlow was not hit and fled into a wooded area. He was taken into custody by U.S. Marshals about 11:30 p.m.
The shooting happened near Shiloh Middle School, about 25 miles (40 kilometers) northeast of Atlanta.
___
This story corrects typo from George to Georgia in 1st paragraph. Adds additional information about initial shooting. Changes headline and summary.