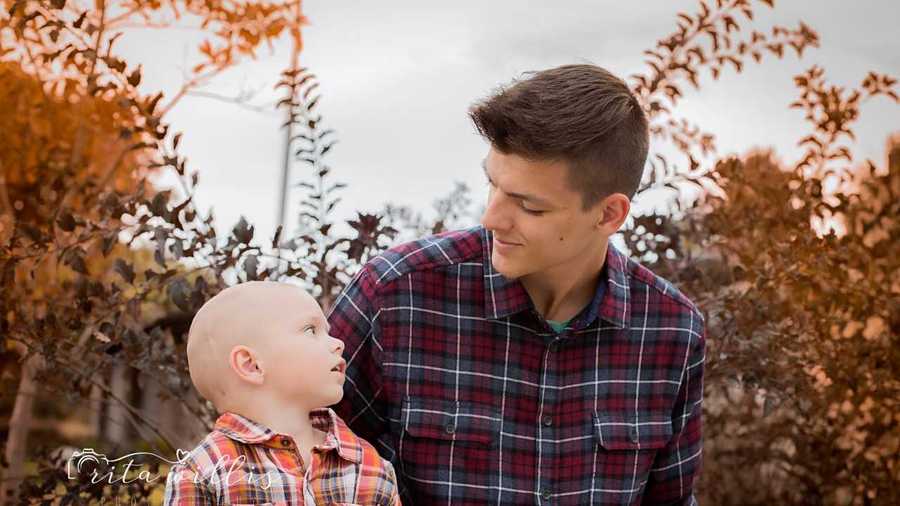 NORTHGATE, Oh. (WLWT) – The brother of a boy who died of cancer two weeks ago is in critical but stable condition after he was hit by two cars in Colerain Township.
Andrew Allen, 18, is the older brother to 2-year-old Brody Allen.
Andrew was trying to cross Springdale Road at Niagara Street on Monday night when he was hit.
"He's lying on the ground. He looks unconscious," one 911 caller said.
Several witnesses called 911. One person could be heard in the background telling Andrew to hold on while another ordered people to get a blanket and bring it to him.
"Go to the van and get a blanket out of the van," a man said.
Todd Allen took to Facebook to update the community on his son.
"Andrew's condition is very critical. He has a very serious life threatening traumatic brain injury, damage to his heart and lungs, multiple compound fractures to both of his legs, damage to his kidneys, a small laceration to his spleen, a broken shoulder blade, and a dislocated / broken collar bone," Todd Allen wrote.
The doctors have placed Andrew in a state of medically-induced paralysis and he is heavily sedated. He cannot breathe on his own and is on a ventilator.
Todd Allen said that, during the first 24 hours after the accident, Andrew received 27 blood transfusions.
He said Andrew is fighting and asked people to please keep praying.
According to witnesses, both drivers who hit Andrew stopped. One even got on the phone with dispatchers. She was crying and repeatedly said, "I didn't even see him."
Jai'La Nored told WLWT she did not see the Andrew get hit but almost hit him a third time. Her passenger noticed something in the road and alerted her in time to swerve out of the way.
"Honestly, if (my cousin) hadn't been in the car, I would have hit him. I would have rolled right over him, because he was lying in the street," Nored said. Nored called 911 and quickly realized the first driver who hit him had also called.
"The first driver, she was so distraught," Nored said. "She's crying, she's walking back and forth saying, 'I didn't mean to do it. I didn't mean to hit him. I didn't see him. I didn't know what happened.'"
Nored told 911 she could see Andrew breathing, but it was difficult to see his injuries because it was raining so hard.
"It was really intense. I just remember everybody being super concerned about him because we couldn't tell who he was, how old he was, anything. We were all just concerned with keeping him alive until the ambulance got there," Nored said.
Colerain Township police have not said where Andrew was going or where he was coming from. The accident remains under investigation.