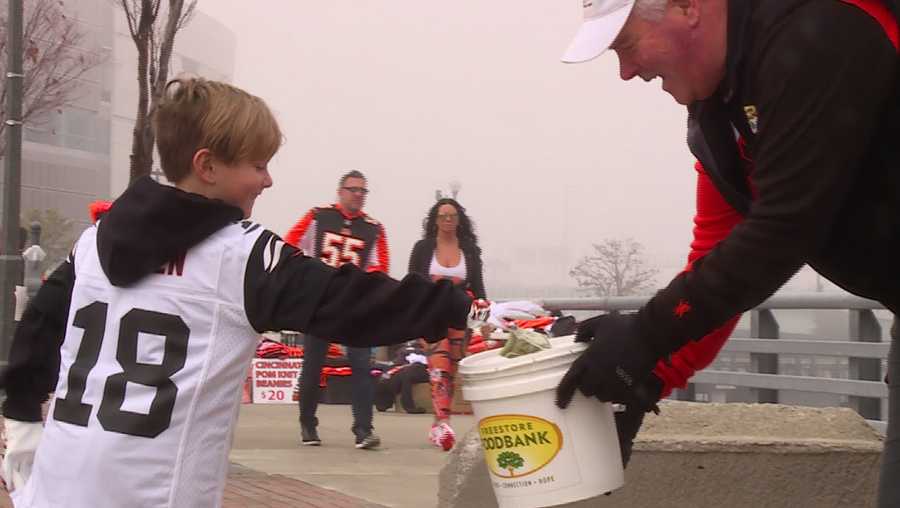 CINCINNATI (WLWT) -Bengals and Browns fans gathered early to cheer on their teams. From the tailgate, to the stadium plaza.
But no matter the outcome on the field, the really big winners in the battle of Ohio were Tri-State families in need.
The Bengals and the Freestore Foodbank have partnered for 32 years. Kurt Reiber of the Freestore Foodbank said Bengals fans have been amazing.
"When you see the outpouring of support the Freestore Foodbank receives during the Bengals canned food and fund drive, it's just fantastic. We've been doing this for 32 years, and this year was an exceptional year for us," Reiber said.
An estimated 60,000 to 70,000 people will have a meal because of Sunday's game.
Organizers say every contribution makes a difference for Tri-State families in need.
"During the Thanksgiving season, we saw over 18,000 individuals, 6,500 families, so this comes at a great time for us," Reiber said.
And while the canned food and fund drive may not be quite as exciting as a pass from Andy Dalton to AJ Green, the contributions from fans make the volunteer effort a true touchdown for fans who give.
"We're all about the community. We always try to participate. We just want to make sure we help other people in the community also," said Angela Boehme of Delhi.
With the rivalry between Cleveland and Cincinnati always intense, helping others is personal for these fans. Many, like Nikki Conley, say they are making a difference in the lives of all of our teammates in their time of need.
"It's all about community. We even brought a pumpkin pie and are going to give it to the first homeless person we see."