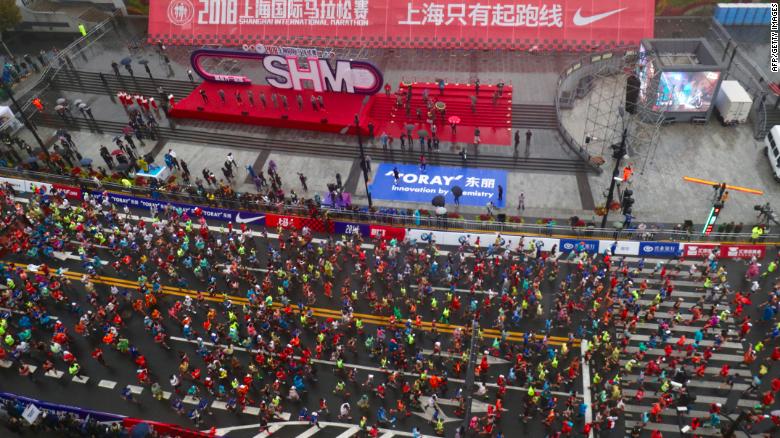 Marathons are increasingly common and popular in China. Runners in this photo take part in the Shanghai International Marathon in Shanghai on November 18. (CNN)
Hong Kong (CNN) – More than 200 runners have been disqualified from the Shenzhen half marathon after widespread cheating was uncovered following the race on November 25, Chinese state-run media Xinhua said.
About 16,000 people were estimated to take part in the race on Sunday, just one of more than 1,000 marathons being held across the country in 2018 alone.
But just days later it was discovered that 258 runners had cheated during the annual event, with some taking shortcuts while others hired people to run for them.
"We deeply regret the violations that occurred during the event. Marathon running is not simply exercise, it is a metaphor for life, and every runner is responsible for him or herself," event organizers said after the race.
Video on traffic cameras caught runners brazenly crossing through a nature strip from one side of a highway to the other to significantly shorten their race by up to three kilometers (1.8 miles).
In other cases, according to Xinhua, photos from the race showed two runners with the same number on their bibs.
As a result of their actions, competitors who wore fake bib numbers or hired replacement runners were banned for life from competing in the annual race, while another 237 were banned for two years.
Usually disqualifications at marathons worldwide are made on an individual basis, with one or two runners accused of cutting corners or faking times.
An article by People's Daily, posted to social media after the announcement of the mass cheating, called on competitors to, "please respect the Marathon, and respect sporting spirit."