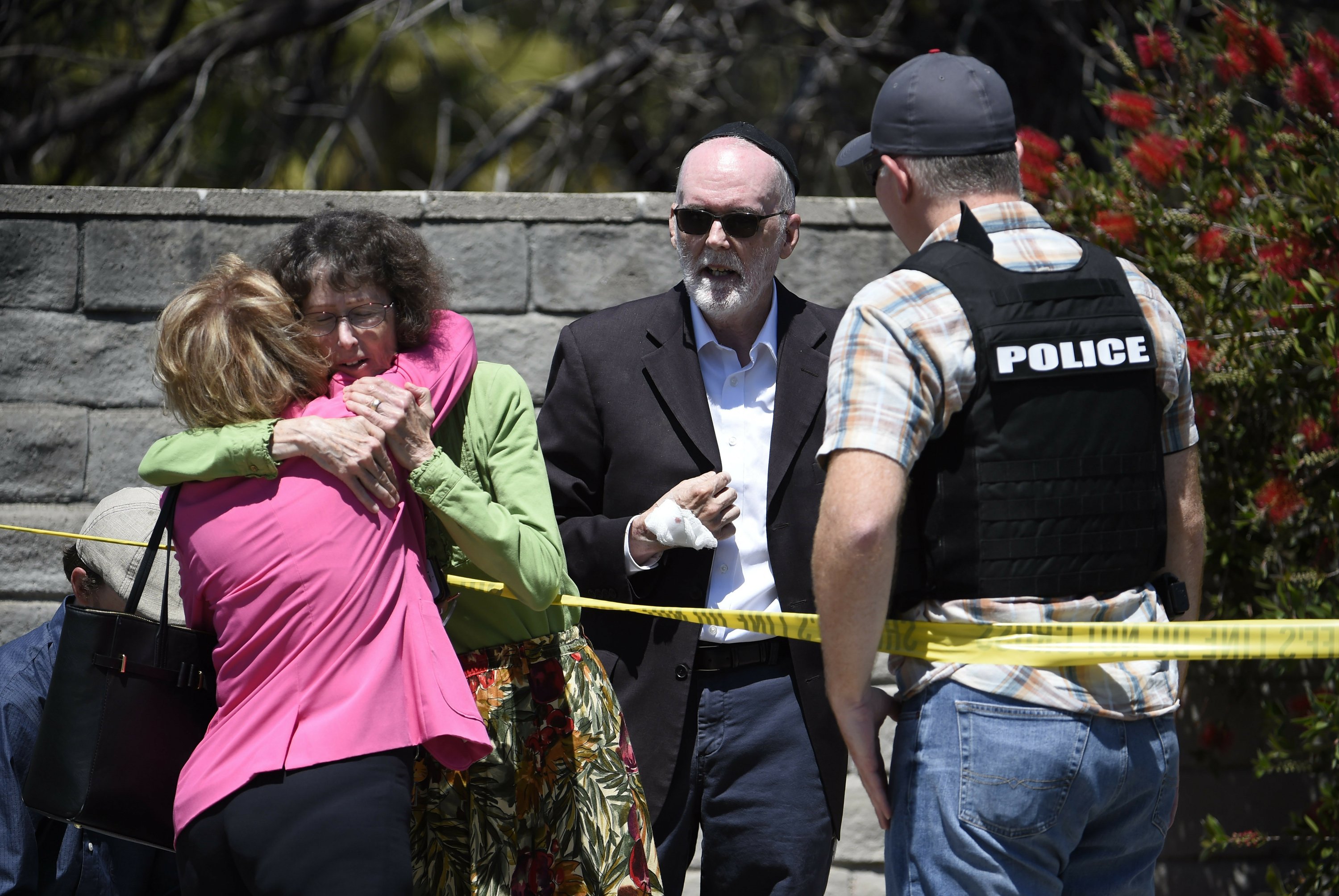 (AP Photo/Denis Poroy)
SAN DIEGO (NBC NEWS) – One person died after a 19-year-old man walked into a Chabad synagogue in a San Diego suburb Saturday morning and shot people inside, and the suspect is in custody, the sheriff said.
Three other people were injured in the shooting at Chabad of Poway, which occurred around 11:23 a.m., and those people are hospitalized and stable, San Diego Sheriff Bill Gore said.
"This individual was with an AR-type assault weapon and opened fire on the people inside the synagogue," Gore said.
An off-duty Border Patrol agent in the area fired at the suspect as he fled the Chabad of Poway and struck his car, Gore and San Diego Police Chief David Nislei said at a news conference.
A San Diego police officer en route to the scene saw the suspect's vehicle and "the suspect pulled over, jumped out of his car with his hands up," Nislei said. As the suspect was being placed in custody, police "clearly saw a rifle sitting on the front passenger seat," Nislei said.
Officials had not yet released the man's name, but multiple law enforcement sources familiar with the investigation identified the suspected shooter as John T. Earnest, 19.
Four people who were shot were transported to hospitals and one of those, who Gore identified only as an older woman, died. A female juvenile and two adult men were at a hospital and were stable, he said. He called the shooting a "senseless act of tragedy."
Gore would not release details of the suspect or a possible motive, saying he is being interviewed by the police and the FBI. Poway Mayor Steve Vaus said in a phone interview with MSNBC that "it was a hate crime, and that will not stand."
San Diego Sheriff's Sgt. Aaron Meleen said earlier that deputies were called on an "active shooter situation" and that "we're confident that there are no shooters that are outstanding."
Vaus said in a phone interview with MSNBC that the rabbi was shot in the hand, and he suggested that members of the congregation took action to confront the shooter.
"We are grateful to those in the congregation there that engaged the shooter and prevented this from being a much more horrific incident," Vaus said.
Chabad of Poway had advertised an 11:00 a.m. "Passover Holiday Celebration" online. Saturday is the traditional weekly day of Jewish Sabbath. This Saturday is also the final day of Passover, a week-long holiday marking the deliverance of the Jewish people from slavery in ancient Egypt.
A neighbor whose backyard is across the street from the synagogue, Donny Phonea, 38, said that he heard three or four shots and some yelling.
"I peeked across from my backyard, and people were hiding behind a transistor box," Phonea said. "I knew something was wrong. I had a sense this was probably hate related."
President Donald Trump spoke to reporters on the White House South Lawn before departing for Wisconsin, saying, "My deepest sympathies go to the people that were affected, their families, their loved ones."
"Obviously it looks right now, based on my last conversations, it looks like a hate crime," Trump said. Poway's mayor tweeted that Trump called him from Air Force One and offered assistance.
✔@realDonaldTrump
Thoughts and prayers to all of those affected by the shooting at the Synagogue in Poway, California. God bless you all. Suspect apprehended. Law enforcement did outstanding job. Thank you!
16.2K people are talking about this
The Chabad synagogue serves as a community center for ultra-Orthodox Jews, and Chabads in general are known for reaching out to non-Orthodox Jews to encourage them to partake in Jewish life and join some celebrations.
Minoo Anvari said one of the people shot was her friend, and that her husband called her after the shooting.
"My husband said 'she's down' and they tried to stop the bleeding but immediately they had to take her to hospital," Anvari said.
Meleen, the sheriff's sergeant, said earlier Friday that when deputies arrived there were reports that two children were unaccounted for, but those children were found safe and reunited with their parents.
"As you can imagine, it was an extremely chaotic scene with people running everywhere when we got here," Meleen said.
In October, a man fatally shot 11 people at the Tree of Life synagogue in Pittsburgh. Suspected gunman Robert Bowers, 46, is charged with federal hate crime and other charges.
Poway is a city of around 50,000 north of San Diego.
"I want you to know, this is not Poway. The Poway that I know comes together just as we did a few weeks ago, in an inter-faith event," Vaus said at a news conference. "We always walk with our arms around each other, and we will walk through this tragedy with our arms around each other."
Law enforcement in other cities, including Los Angeles, San Francisco and New York, said they were closely monitoring the situation.
"At this time there's no nexus to Los Angeles, but in an abundance of caution, we will conduct high visibility patrols around synagogues & other houses of worship," the LAPD tweeted.
The United States Holocaust Memorial Museum in Washington said it is "is shocked and alarmed at the second armed attack on a synagogue in the United States in six months."
"Now our thoughts are with the victims and their loved ones," Museum Director Sara J. Bloomfield said in a statement.
"But moving forward this must serve as yet another wake-up call that antisemitism is a growing and deadly menace," she said. "The Holocaust is a reminder of the dangers of unchecked antisemitism and the way hate can infect a society. All Americans must unequivocally condemn it and confront it in wherever it appears."