(CNN) – Interpol said Sunday it had received the resignation of its president, deepening the mystery of the disappearance of Meng Hongwei, a Chinese government official who has been missing since last week.
His wife said Sunday her last contact with him came via a WhatsApp text message with a knife emoji and the instructions, "Wait for my call."
Grace Meng delivered the information to reporters from her hotel room in Lyon, France.
Interpol tweeted Sunday night that it received Meng's resignation and that Kim Jong Yang of South Korea, a vice president representing Asia on Interpol's executive committee, would serve as acting president until Interpol's general assembly picks a permanent president next month.
Interpol has asked Chinese authorities for information about Meng Hongwei. The disciplinary arm of China's Communist Party released a statement saying Meng "is under investigation by the National Supervision Commission for alleged violations of laws."
The party provided no additional details.
The Interpol statement announcing Meng's resignation did not mention that he is missing.
Grace Meng said her husband's whereabouts is a matter that "belongs to the international community." She added, "Although I can't see my husband, we are always connected by heart."
Asked about the text message Grace Meng received, the French Interior Ministry said through a spokesman it has no information to share.
In a statement posted to Twitter on Saturday, Interpol Secretary General Jurgen Stock said, "Interpol has requested through official law enforcement channels clarification from China's authorities on the status of Interpol President Meng Hongwei."
"Interpol's General Secretariat looks forward to an official response from China's authorities to address concerns over the President's well-being," the statement continued.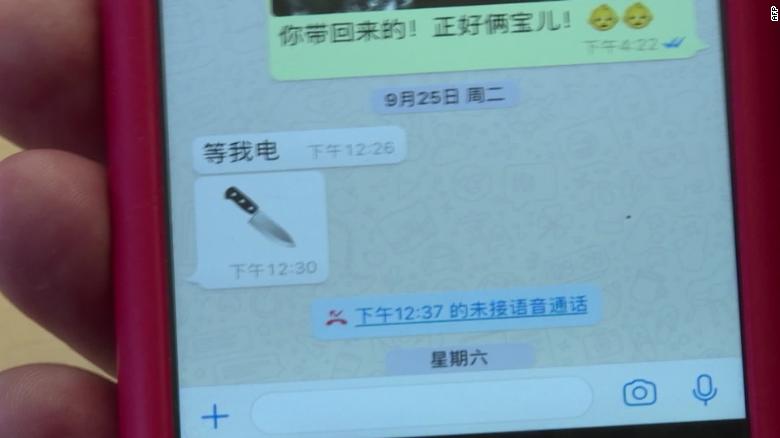 Meng Hongwei's wife says he sent her a knife emoji and the message, "Wait for my call."
Meng Hongwei, according to Chinese state news agency Xinhua, was the first Chinese official to become president of Interpol, which is based in Lyon. He was not on French soil when he was last seen, according a senior French law enforcement official, who declined to say whether he was in China.
Interpol, or the International Police Criminal Organization, facilitates international police cooperation.
Meng's wife went to police in Lyon on Thursday to report his disappearance, according to the French Interior Ministry. She told police that she last heard from him 10 days prior and had received threats on social media and by telephone, according to the statement.
"France is looking into the situation of the President of Interpol and is concerned about the threats his wife has received," the statement said.
It adds that a "suitable police mechanism" was put in place to guarantee Grace Meng's safety, and that the prosecutor's office in Lyon has opened an investigation.
A spokeswoman for Interpol, who declined to give her name, refused to say whether Meng had been on official business in China.
"Interpol is aware of media reports in connection with the alleged disappearance of Interpol President Meng Hongwei. This is a matter for the relevant authorities in both France and China," Interpol said in a statement, declining to comment further.
Meng, who is China's vice minister for public security and a former head of Interpol China, was elected president of Interpol in November 2016.
The South China Morning Post, a Hong Kong-based newspaper known for its connections inside the Chinese government, said Meng was "taken away" for questioning upon landing in China last week. The newspaper cited an unnamed source.
Meng's vanishing act bears hallmarks of what happens to senior officials when they are suspected of violating party rules, usually alleged corruption.
Meng oversees the agency's executive committee, which sets overall strategy. Interpol's secretary-general is responsible for the day-to-day operations.