Devastating and historic floods have already cause major damage across the Plains, Midwest, and Mississippi River corridor this winter. This can all be attributed to the wetter than average end to 2018 along with a very wet start to 2019. Not to mention, snow pack that is just beginning to melt in these locations.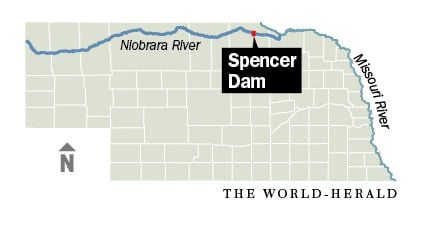 The Spencer Dam is located on the Niobrara River, a tributary of the Missouri River that runs 568 miles from Wyoming, through northern Nebraska. The river drains snow melt from the eastern Rocky Mountains as well as one of the most arid stretches of the Great Plains. The dam was a concrete gravity dam built in the late 1920s in an effort to provide hydroelectricity for the surrounding communities.
The failure of Spencer Dam can be attributed to the high water and rapid snow melt occurring in the Great Plains. Mix that with last week's blizzard, and things will not go according to plan. Enough water and wind to wash out the dam causing mass flooding and an 11-foot "wall of water" to flow downriver.
Several roads were washed out around the river, including U.S. Hwy 281 located directly downstream of the river. Nebraska Highway 12 was so badly damaged at the river crossing, that the bridge was swept downstream and washed up on higher ground, not far from the main road.