Earlier this week Chief Meteorologist Bill Meck mentioned the lack of severe weather warnings that we have seen so far this year. Only a handful of severe thunderstorm warnings have been issued. We're not alone. The spring severe weather season has been slow to wake up across the usually hopping Tornado Alley. A different region of the country is leading the way in confirmed tornadoes.
"Tornado Alley" is the nickname given to an area in the southern plains that experiences a higher frequency of tornadoes each year. This region stretches from central Texas to the south then up to northern Iowa, and from central Kansas and Nebraska in the west to western Ohio. The Gulf Coast has also been gaining notoriety with "Dixie Alley," which has a high frequency of tornadoes during the late fall.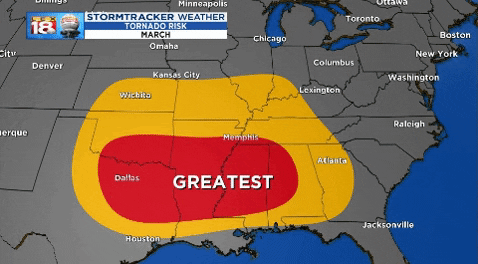 The focus of severe weather shifts over the course of the spring. Severe season gets started near the Gulf of Mexico, where there is always of supply of moisture (one of the necessary ingredients for thunderstorm development.) Looking ahead to April the areas at the greatest tornado risk shifts to southern Kansas through Oklahoma and northern Texas plus Arkansas, northern Louisiana, Mississippi, and Alabama. The traditional Tornado Alley becomes the focus of severe weather during the month of May.
That's climatology; that's what's expected each spring. This year has been different. The Gulf Coast has been hit time after time by severe weather. These severe thunderstorms have also produced multiple tornadoes with each outbreak.
235 of the 545 confirmed tornadoes this year have occurred across Dixie Alley. Texas has seen 62 tornadoes; Oklahoma only 24.
The shift in the severe weather hot zone hasn't shifted yet. All the ingredients for severe storms have remained bottled up across the Deep South. Once the shift occurs the number of tornadoes across Texas, Oklahoma, Kansas, Nebraska, and Iowa will likely be on the rise. Or this may just be a down year for Tornado Alley.